Key Players in the EU Payments Landscape 2022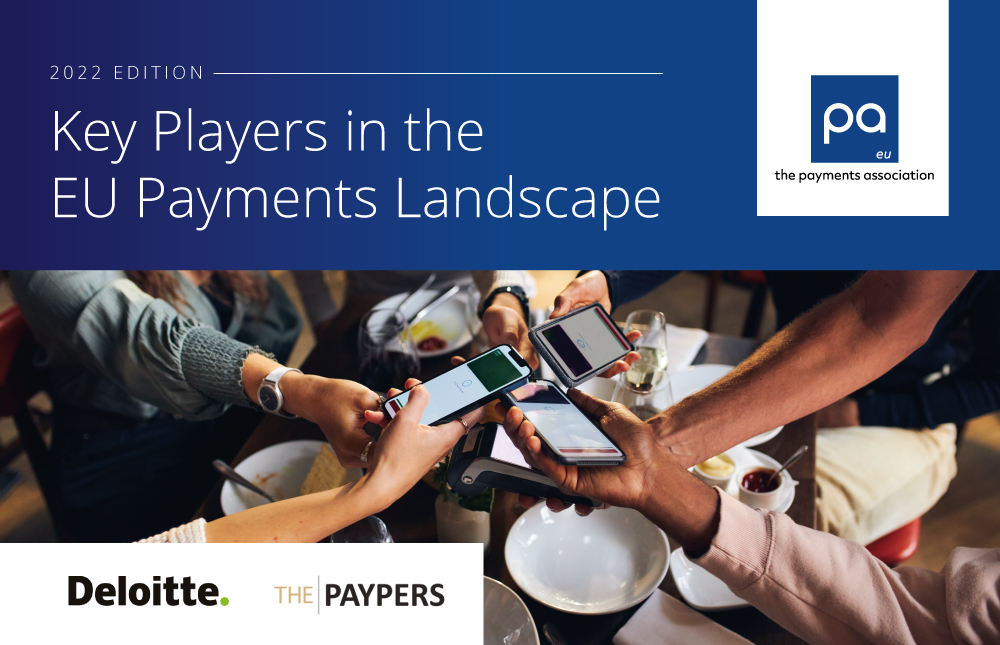 Commissioned by Deloitte, the 2022 "Key Players in the EU Payments Landscape" report by The Payments Association EU (PA EU) and The Paypers offers an exclusive strategic review across EU's individual payments markets, ranking the key players according to their place in the value chain and financial indicators.
In the first part, Deloitte presents a panorama of the payments ecosystem. In the second part, we take a closer look at the players and  characteristics of the EU payments landscape. This analysis is carried out at three different levels: global, regional and local with a comprehensive observation of operators and country-specific results.
The report is complemented by a financial perspective thanks to the exclusive use of the "Orbis" database (by Bureau van Dijk, a Moody's Analytics Company) and convenient Linkedin hyperlinks to easily reach all listed companies. 
The research discovered new upcoming trends, including: 
·PSD2 should have been a driver for innovation in payments, yet we are seeing a disparity in terms of players It seems that the fragmentation of technical standards and the reluctance of banks to adopt the account-to-account payment infrastructure may largely explain why PSD2 has not driven greater growth in Europe as a whole.

·With the financial crisis of 2008, Brexit, COVID-19, and now the war in Ukraine, Europe has experienced many disruptions that have prevented regulatory harmonization, but this has not averted a continued move towards a cashless society.  In addition, many players have taken advantage of the emerging alternative payment methods and have increased e-commerce volumes

·Harmonised regulation, digitalisation, and fintech investments can form the next European payments champions. Going from regional players to global phenomenons, we mention that in 2021 there were 85 new fintech unicorns, bringing the total to 132; the growth rate in Europe exceeded the US-based one twofold.
You can find the report here